Giving Back
As part of our Milo's Makes a Difference initiatives, we are committed to giving back to our associates, fans and the communities we serve. That is why we made the 1% Profit Pledge, donating cash, beverages and employee volunteer time throughout the United States, with a focus on environmental stewardship and supporting families, women and education.
Better for You
We are committed to products that are Better For You. That means we offer Low or Zero Calorie beverage options in all markets. We also consistently work to provide transparent nutrition information and real, natural ingredients so our fans can choose the calorie content that is right for them.
Zero Waste
Milo's is a Certified Zero Waste manufacturer, which means we recycle over 96% of waste produced in our manufacturing operations. Since the inception of our environmental stewardship programming, we have recycled over 33,000 tons of waste (which is 66,000,000 pounds diverted from landfills and reused or recycled)!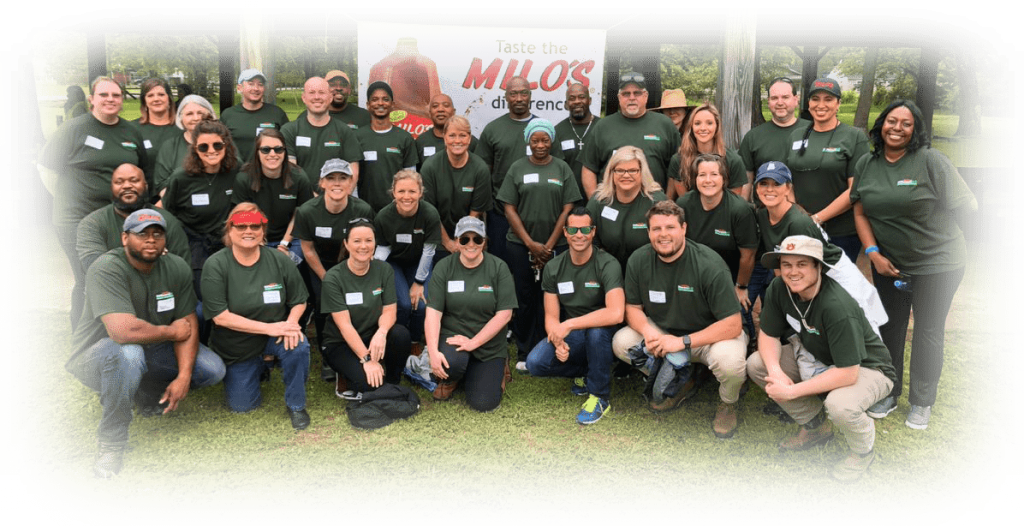 Water Conservation
Our company-wide environmental initiatives include a deep commitment to water conservation. Not only have we drastically improved the water efficiency in our manufacturing operations, saving more that 4.37 million gallons of water in 2019, we also partner with local and national conservation organizations to rehabilitate watersheds and provide associates opportunities as civic ambassadors.
Diversity
Milo's is committed to creating a culture of respect and celebration of diversity in the workplace. Our focus on inclusion has resulted in over half of our total salaries going to female employees, and approximately half of our associates are ethnically diverse.

Learn more here.
Human Rights
We have committed to comply with the UN Global Compact on Human Rights. Further, we encourage and support our suppliers and business partners in respecting human rights.
Our Company is Different
Milo's Sweet Story
Milo's was founded as a restaurant in 1946 by Milo and Bea Carlton after Milo returned from serving our country in World War II. Milo's philosophy was simple: use high quality, natural ingredients; fresh brew all of our teas and never use added colors or preservatives. Drink Milo's and you will Taste the Difference!
Family-Owned
Milo's Tea Company is a family-owned business. The Carlton family proudly carries on the tradition of uncompromising quality and commitment to its customers established by its founders, Milo and Bea Carlton, in 1946.
Certified Women-Owned Business
We are a certified women-owned business, which means we are majority owned and controlled by women. We were certified through an in-depth certification process administered by Women's Business Enterprise National Council (WBENC), a third-party certifier of businesses owned and operated by women in the United States.

Made in the USA
Founded by a WWII veteran, Milo's is proud of its rich Alabama legacy. All of our beverages are brewed, bottled and distributed from our United States based manufacturing facilities.