Our Sweet Community
When I was a little girl, I loved going to Grandma's house. Not unusual since Grandma hugs are the best. However, my Grandma made the best fried pies ever. Dried peaches or apples, cooked, seasoned just so, and folded into a tender crust. All was homegrown and homemade Then there was the beverage. Ice cold, sweet tea was something I just loved. My Mom would not let me have it since caffeine was not good for children. However, she would not say anything at Grandma's house and somehow I was always hungry when I got there. A hungry child was given one of those fried pies and a couple of glasses of sweet tea. Milo's has helped create sweet family memories for many years now and I'm glad to be part of them.
Belinda, Etta, Mississippi
First time sipped on glass of Milo's tea it took me back to the good ole days at My Grandmas house with all that country cooking
Milo's tea is a comfort food
I always keep in my fridge
Don't change a thing,best tea ever
Joe, Franklinton, North Carolina
I absolutely love your zero calorie tea! Ive tried many different sweet teas and yours is by far my favorite! Every time i go to walmart i buy the cooler out. Thank you for such a wonderful product! I wish you sold it in cases 🙂
Scott, Apple Valley, Minnesota
This past Friday you had people giving out samples of the sweet tea in Southampton NY, my daughter tried it and loved it. She 13, and my 5 yr old son LOVES them. My daughter will make me buy them whenever she sees them in the store. Today alone I ended up getting 11 of the 20oz bottles. We take them to the beach and both kids drinks them when they can.
Stephanie, Medford, New York
My son was very insistent that I try this "great new tea" he found at Wal-Mart so, I did and it was wonderful! This was the red label sweet tea well….I was at Dollar General a couple weeks ago and saw the extra sweet purple label tea and let me tell you I fell IN LOVE!!! We have a local store in our town that has fresh brewed sweet tea for $1.00 and this has been my go-to for well over 2 years now. But, after discovering Milo's Extra Sweet Tea I am going to Dollar General daily.
I do have one request…can we please get this in a gallon? Or maybe available in more stores!
Thank you so much,
Krystal Davis
Krystal, Greenfield, Ohio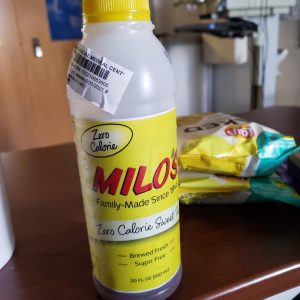 I just recently was discharged from the hospital after 20 days (16 in ICU) due to double pneumonia & covid. Needless to say I had no appetite. Nothing I ate tasted "right." It either tasted like nothing or metallic.
I had recently fell in love with your zero calorie sweet tea at a trade show demo booth. I asked my family to have some delivered to the hospital (as I was not allowed visitors due to covid). I can truly say your tea tasted the same. To my parched mouth & soul, it tasted even better. So I thank you for a great product. A new marketing angle you can pursue: "when everything tastes (goes) bad, count on Milo's to taste (make it) right. The nursing staff nicknamed me the Milo's lady. I'll take that nickname anyday.
Lisa, Chesapeake, Virginia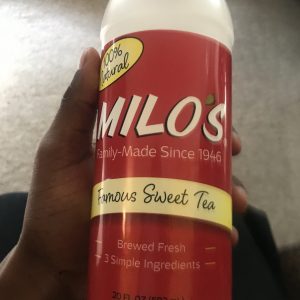 I like the Milos sweet tea because it the best sweet tea I try before
Trae, Columbus, Georgia
A lady I worked with was grocery shopping and she has grabbed a single serve milos sweet tea. Once she took a sip of it she went back in and bought every jug and bottle of tea the store had and brought to work and told us to try it. Since the. I was hooked, that was 8 years ago. And still to this day I have at least 7 gallons in my fridge. Friends and family always knows I have milos sweet tea in my fridge for them to drink.
Melissa, Lineville, Iowa
My Milo's Moment is a simple one. I found Milo's about 11 years ago when I was trying to find the best tasting fresh brewed, pre-made tea. I loved the clean, crisp, fresh, refreshing taste of Milo's. I have tried several other brands of tea, and the taste of Milo's is better than all other's. I regularly drink about 2 gallons a week of the sugar free, sweet tea. So refreshing. My compliments to all those at Milo's for brewing such a high quality, great tasting tea.
Pat, DeWitt, Michigan
Ever since my mom told me about Milos 25 years ago we have always loved it from day one my kid loves it an now so does our grandkids that was are special place to take my mom but sadly she past away ! An we still go an remember all the good times we had with her at our favorite place to eat thanks Milos happy 75th y'all are amazing
Tina, Montevallo, Alabama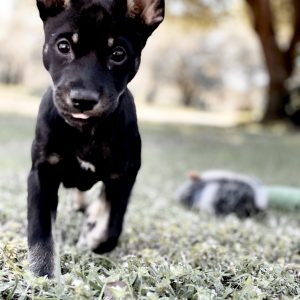 I've always been a sucker for sweet tea it didn't matter what flavor it was. Then I stumbled upon milos sweet tea and I fell in love so much so I decided to name my dog after the brand. Just recently ncaa has allowed companies to support college athletes and I'm heavily interested in the idea of being supported by milos sweet tea! Below is a picture of my dog Milo hope you enjoyed my story!
McKenzie, Pendleton, South Carolina
I'm a first time drinker of your sweet tea and I love it. I paid almost 4.00 on a whim of trying the product in fear of not liking it but I love it. keep up the great work y'all. mad love all the way from westminister maryland
jessica, Westminster, Maryland
I tried it in Alabama and I would bring gallons home to Ohio with me. One day I went shopping and found Milo's in Ohio!! So thankful and now I share my love of Milo's to everyone!
Kira, New Carlisle, Ohio
Milo's tea is hardly known in my area. My boyfriend went down to North Carolina and his cousin convinced him to try Milo's saying "it's the best tea". From that moment on his family has been hooked on their sweet tea. Now I have never liked any kind of cold tea, but Milo's is a whole different breed. Ever since my boyfriend came home claiming this is the best tea, I had to try it. And to say it is it is the "best tea" is not an exaggeration. Nothing beats Milo's tea.
caitlin, ellwood city, Pennsylvania
I have seen several of your ad's on tv. I love sweet tea since I did grow up in the South. I now live in Ohio. I no longer get good sweet tea when I eat out. Not even at McD's. which was my favorite. Love Milo's!
Linda, New Plymouth, Ohio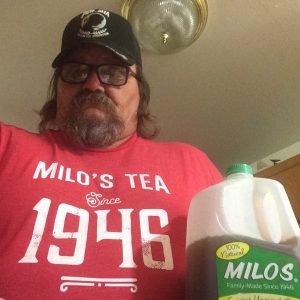 I would like to thank you for the wonderful T-shirt you sent me. I stumbled upon this product in antlers Oklahoma on a fishing trip, and now they have it here in Lincoln Nebraska at the Hy- Vee store. This is the best tea ever better than my own brewed tea. Thank you.
David, Lincoln, Nebraska
I have tried every tea 20 ounce I can get my hands on. And every single one of them I did not like and it always came down to preservatives they all contain citric acid and have a slight taste of lemon. I am not a fan of lemon in my tea. Then on a chance I tried your tea at our store, I fell in love instantly the perfect tea. I have had at least one gallon of your sweet tea in my fridge ever since. So thank you for creating such a wonderful tea. You will have my business and anyone else I can get to try it.
Jason, Normal, Illinois
How dare you make this tea as I do! I ought to tell your parents on you! Anyways, considering I love tea but not too sweet, I'm glad I tried it and I love it. Just got a jug today and it's mostly gone. A lot of companies make it either too sweet or not sweet enough. Good thing you don't make a peach flavor or I would be in serious trouble. I would drink those quicker than the sweet tea flavor. Anyways, you found a new loyal customer as long as you don't change the recipe.
Allyson, Cleveland, Ohio
Tricia, my taste buds ask me to give you their annual reminder – NEVER EVER CHANGE ANYTHING! Please pass this on to your employees. Willie Chaffin Abingdon Virginia
WillieChaffin, Abingdon, Virginia
I grew up drinking sweet tea and I love tea. I became a diabetic 6 yrs ago and can no longer drink reg sweet tea. I was at Walmart one day and needed a tea. Your no calorie Milo's tea was in the cooler. I hate instant tea and your tea is brewed, just like my mom made. It was so good. I never buy any other kind and I drink 4 or 5 gallons a month, where ever I am I have my glass filled with Milo's tea. Best ever.
Gail, Chattanooga, Tennessee