Our Sweet Community
When I was a little girl, I loved going to Grandma's house. Not unusual since Grandma hugs are the best. However, my Grandma made the best fried pies ever. Dried peaches or apples, cooked, seasoned just so, and folded into a tender crust. All was homegrown and homemade Then there was the beverage. Ice cold, sweet tea was something I just loved. My Mom would not let me have it since caffeine was not good for children. However, she would not say anything at Grandma's house and somehow I was always hungry when I got there. A hungry child was given one of those fried pies and a couple of glasses of sweet tea. Milo's has helped create sweet family memories for many years now and I'm glad to be part of them.
Belinda, Etta, Mississippi
I was in shop&shop buying ice tea in my Holbrook, Long Island,
Suffolk county, New York.
But the brand I usually buy was out of stock., so I decided to buy Milo's..
BEST TEA I EVER TASTED!!!
Will never buy any other ice tea other than Milo's…
FANTASTIC!!! With real ice tea favor!!!!
EXCELLENT PRODUCT!!!
Phoffman, Holbrook, New York
Dear Milos Family,
I have always been a tea drinker but it was mom's sweet tea. I have always been very fun about the different teas. I found Milos in a Dollar General about 6 years ago. And I have not been able to stop drinking it. I will go and buy all that is at a store just so I have it in the refrigerator. Here lately it has been getting hard to find. I'm not sure if everyone is catching on that this tea is the BEST. I have to hide it from my kids so they don't drink it all. Oh I absolutely love MILOS red label sweet tea.
Thank You for this product of tea!
Jason, Spotsylvania, Virginia
The name caught my attention. Once I looked closer and saw it my favorite beverage, sweet tea, I decided to give it a try. Needles to say it was the perfect blend of tea and sugar for refreshing perfect taste. Milos is my go to beverage tea for all seasons and reasons. Milo…. the G.O.A.T (Greatest Of All Teas)!!!!
Delonte, Dumfries, Virginia
Dear friends at Milo's,
I am Northern raised, Southern by the grace of God (my parents divorced when I was a baby, dad's from KY, Mom's from MI). I have ALWAYS loved Sweet Tea, and can't remember a time I haven't drank it. I raised my kids to love sweet tea, too.
This January, I was diagnosed a Type 2 Diabetic. Talk about a sad day in my world. No more sweets, no more Sweet Tea. I have been keto dieting (which is a bad word to some, but hey, it works for me). I have been hard core craving Sweet Tea and feeling kind of sorry for myself that I couldn't have it (I stopped drinking tea all together, because a Southern girl drinking unsweet tea – even if it's a chai tea- no. Just no). I came across Milo's Zero Calorie Sweet Tea in the store the other day, and thought, "what do I have to lose? I'll give this a whirl." OMG. GAME. CHANGER!! My taste buds were doing the happy dance. My sweet tea lover that had been put in the closet was singing "I've got a golden ticket" and beaming! This is the best! There is no weird aftertaste that you get sometimes when you have a not "sugar" sugar. The tea was perfect!!!! Please please please do not ever stop making this stuff!! This is now a staple in my fridge!!! I am heading right back to Walmart and buying a ton more!! I am so so so happy to have tried this!
Thank you! Thank you! Thank you!!!!
Your fan for LIFE!
Nichole
Nichole, Spring Lake, Michigan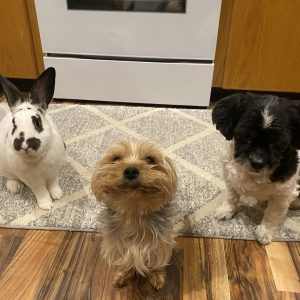 I have a very cute Yorkie and his name is Milo. I thought it was cute to bring home a gallon and show my wife. The first drink we were hooked! Been drinking Milos for a few years now and I have tried many different teas but nothing is this good. In the the picture below Milo is in the middle.
Mark, Vancouver, Washington
I'm from Texas and sweet tea is what we drink here .I grew up on tea and as I gotten older I went threw tea after tea and other tea company's would change up there taste. one day I stopped at a Popeyes back in day and they had Milos sweet tea and lemonade.then they didn't and yrs past and with in the past year and half I discovered WalMart and dollar general started carrying Milos and I've started back drinking them and getting everyone around me drinking and liking Milos .so now every time I go to dollar general I buy alot of Milos my fav is the extra sweet tea in the purple label and I'll buy all the store has in stock which they only usually have 4 purples at a time so as I pass by dollar general's I buy them out of my fav drink
Brandon, New caney, Texas
I was working at krogers at the time. Wanting something different to drink other than Soda. Fell in love with the flavor. Cant stop drinking it.
Sharlet, Middletown, Indiana
I was raised on fresh brewed sweet tea. As an adult I have always been on the look out for a pre-made tea in the store as I drink probably a gallon in two-three days. Every tea I have tried just taste terrible. They all have this old tea taste, until I found Milos. Milos is by far the most amazing tea that I can buy at the local store. I love it!! I always have two gallons at the house. By far the best tea out there. If I'm thirsty I prefer Milos sweet tea. I hope one day it will be in the gas stations as I prefer Milos over any other drink.
Chrisitna, Jacksonville, Florida
Ever since I tried milos sweet tea It's been the thing I have drunk for a while other teas don't have any comparisons to this tea I remember one situation on a break deciding what to drink I tried Milos and ever sense I've had a bottle or two in my pocket And it's what people that I work with know me by If I don't buy a gallon jug I always have a bottle close by I've gone to other Walmarts in two different states and always made sure that I had a Milos with me it's the best drink period I don't think anything will compare I only wish there was a factory close to where I live because a bottling plant for Milos to me would be like a dream job I know that one day when I leave this earth I will have several bottles with me in the casket on my way upstairs
John, Chester, Virginia
Milo's was the best tea in town, according to my late father. Every year, we'd use Milo's to make ice tea ice cubes and add them to our Milo's lemonade. What a treat!!
Constance, Madison, Tennessee
Ever since I came across your teas I cannot get enough of them. The sweet tea is truly sweet tea you brew at home. When I go to get some teas for the week I always buy whatever is on the shelf. The red bottle is my favorite.
Charlene, Lancaster, Pennsylvania
The amount of nostalgia a jug of Milo beholds will always bring me a sense of comfort with every sip! Growing up, I would spend my summers camping with my bestie. And thus, I was introduced to Milo's by her family. I remember not liking the sweet tea I'd normally find at my local store, but Milo's was so much more different! Whether we were hiking, camping, or cooking, we always had a jug of Milo's in the cooler tagging along! Years have passed since we last went on a camping trip and I remember asking myself, "what was that good sweet tea from when I was little?" I immediately recognized the logo and packaging at my local supermarket and I was ecstatic! Though I live in the south and we're known for making delicious sweet tea, I'll admit, Milo's surely beat mine! The perfect balance of sweetness, tea flavor, and to top it off with great ingredients, almost nothing beats it. To this day, I always remind my Moma to grab two Milo jugs because before you know it, the first is already gone!
Emely, Lowell, Arkansas
I used to drink the other brand…But it was hit and miss…sometimes get one that tasted real good, then one that was nasty tasting..saw Milos Sweet tea and decided to try…loved it, all I ever drink, never had a bad one…now tried extra sweet…I buy all 18 bottles the Dollar Store gets weekly and also travel to 2 stores 22 miles away to purchase what I can get there.
Thank you for the perfect tea.
Terry, Barnsdall, Oklahoma
I first tryed Milo's sweet tea, after moving out of state. They didn't have my normal drink, and a friend said try this sweet tea. Saying you won't drink any other again. 7 years later, I'm still drinking it. Keep up the Great Brewing!
Charles, Louisville, Kentucky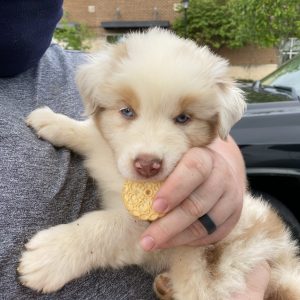 We love Milo's so much that we've named our Red Merle Aussie after you guessed it, Milo's Tea. We were struggling with choosing a name, and there in the top shelf of the fridge was the answer- Milo. Funny enough, we drink the red top too which fits perfect with our Red Merle Aussie. He's a cutie and fitting into his name nicely.
Josh, Castalian Springs, Tennessee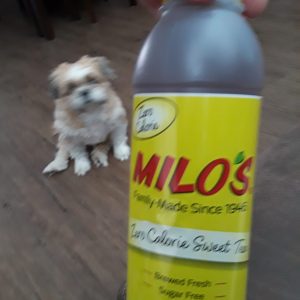 My friend, Helen, was telling me about how her daughter Sherri loves her job at Milo Tea and I told her I never heard of it as we used to live in NJ but now live in SC, but told her I will look for it! Was shopping at Aldi's the next day when I saw it in the first refrigerated section. I bought a few bottles and have to say it was very good! I will keep being a Milo's Tea drinker!
Cherylann, Myrtle Beach, South Carolina
when we were little we were very poor. we were a total of six in the family. my dad who has died two years ago would every friday when he would get paid he would bring us a gallon of tea and sweet bread. everybody was looking for the day to come so that we could drink tea and eat sweet bread. I would also get a glass of tea and save it in the freezer for saturday morning and eat it with a spoon because it was like a frozen popsicle. i remember how i would crave this tea. Now as a grown up i came across it at walmart the one that comes with splenda and now i buy 10 20oz at a time every month. good old hot summer days wish my father was still here to enjoy some tea with me.
irma, harlingen, Texas
Everyone in my family knows my go to drink is Milo's Sweet Tea. It is literally the best tea. What I love most about it is there isn't any other ingredients besides tea, water, and sugar. I love this tea so much that for my Birthdays and holidays my family always buys me jugs of tea. I got several for my Birthday this year, and my husband bought me quite a few for Mother's Day. People may say I go over board, because I buy 3 gallons a week sometimes more. I even go to my local Dollar General and buy out all the Extra Sweet Tea they have. If y'all could make that into gallon jugs that would make my year. Milo's is always on my table at every holiday or special event I have. It's the best tea out there.
Valerie, Elaine, Arkansas
I am from Alabama and my family has always made sun tea. I had a sample of Milos tea and it reminded me of my childhood sipping cold sweet tea on a sunny day! I'm now from Ohio. The feeling of a sip of tea taking me back to my childhood is an amazing thing. I haven't drank any other tea since I've tasted Milos!
Brandi, Canton, Ohio